Weekend is here! It's actually glorious weather here on the Cape and I'm hoping to escape down to the beach for a little bit today or tomorrow. The ocean is my safety and sanity zone… just makes me clear my head and calm down in what has been a bit of a difficult week.
But! I have some fun inspiration for you today — in fact, while my heart is at the beach, I'm thinking about Christmas today! Can you believe it? Don't worry — I'm not going to deluge you with Christmas projects quite yet, but I do have a color combo today that just cried out to be a holiday card.
Our color inspiration today is Merry Merlot, Shaded Spruce, Soft Suede and a touch of Crumb Cake.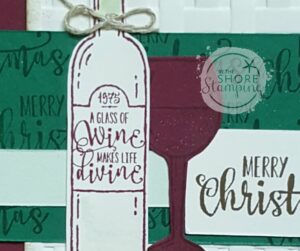 What do you think? Are you ready to do holiday crafting yet? No worries if you're not… I've got some beach inspired inspiration for you tomorrow.
Until then, here is the video with details on how I made today's card.
Enjoying this New Color Week inspiration? Be sure to join me on my
Facebook page
where I share tips, tricks and new products on a daily basis!
xoxo,