Today is a windy, dreary day again here on the Cape. I think we are still experiencing the backlash of Jose — although the rain is pretty much gone… just lots of wind and clouds. I'm so grateful that this storm was really a non-storm here. There are so many areas of the world that are suffering from weather-related events. It's so crazy! My thoughts and prayers are with Harvey, Irma and earthquake victims today.
I wanted to get back to blogging regularly again, and while I can't commit to blogging/vlogging (that's a blog post with a video!) every day, I am going to shoot for two times a week (Tuesday & Thursday). So I hope you'll come back and visit me each week.
Today I wanted to show you the card I made in my Facebook live video from the Fall for Holidays Countdown. It was a live video so I don't have a link for it, but I wanted you to see this card. The Tree Rings background stamp is AMAZING. I particularly love stamping it in white ink on a dark colored background (like on this card).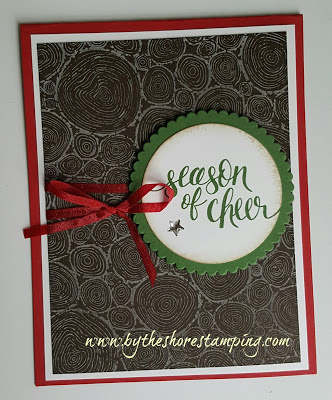 Don't you love that background? It's the Whisper White craft ink on the Early Espresso cardstock. I love the rustic feel of this card… it was actually what I was going for when I created it. Love when that happens!
I've put the products I used on this card below. You can even print out the supply list if you'd like. Just click on the "supply list" beneath the product pictures.
Thanks so much for stopping by today. Be sure to come back and visit next Tuesday when I have a new Teach Me Tuesday video for you!