So I came to the realization last night that I have not had a stamp in my hand for over 11 days! Holy cow! I'm surprised I'm not having convulsions or anything ;o) Last night when I came home from work I tried to remedy that problem, but found that my stamping mojo is still on vacation! I made a couple of cards… they're O.K. but I'm afraid not up to my normal standards lol! I just couldn't get things to work…. Let's see what you think….
Here's the first card I made:
I used the new elegant bouquet embossing folder (I love those!) for the Big Shot and the "Admit It" Level 2 Hostess set. That was one of the first sets I pre-ordered… I don't know why I just loved it. I also used some glitter and crystal effects on the "f" to add some bling… but it didn't come out as nice as I thought it would in my head!
The second card I like a little better. I love the little owl on this one!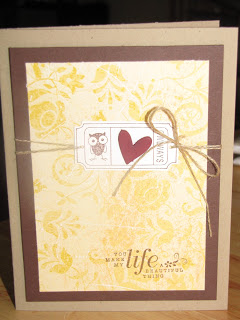 I used the same stamp set on this one with the Razzleberry Lemonade paper. Very simple. What do you think? Which one do you like better?
I'm feeling a little sad this week as it is the annual Stampin' Up! convention in Salt Lake City this week and this is the first time in two years that I did not go. It is so much fun to hear about what's coming up product-wise and share the enthusiasm with 1,000s of other demos… and I mean thousands… check out this photo from last year….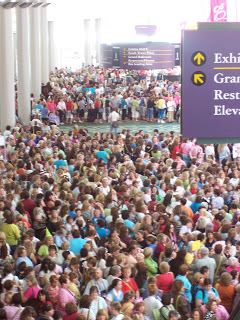 That was the "line" to get into general session on the last day of convention last year…. I'm not big on crowds really so we stayed back a bit until it dwindled… there really isn't a bad seat in the house since they have these huge jumbo TVs to watch what is happening on main stage and you are eligible to win freebies from the "prize patrol" no matter where you sit!
Anyone want to go with me next year? Remember you can sign up to be a demonstrator for just $85 through the end of the month… and that gets you all the added benefits including the 20% product discount, access to all the special corporate events, the ability to pre-order new items (right now I'm debating what I am going to order from the new Holiday Mini-Catalog — you should be seeing yours soon if you are on my customer list — if you are not feel free to email me and I'll get one out to you as soon as I get a package in my hand). Feel free to call or email if you have any questions.
Check out my website for more info about being a demo and while you're there check out the new kids campaign and specials here.
Thanks for stopping by and Happy Friday!