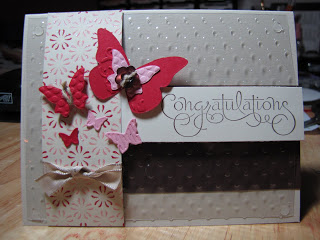 I've been playing again… actually this is a card I made Monday night in my first play session! I got on a roll!
Used lots of new things on this card too including the Well Scripted stamp set and the Sending Love Specialty paper (it is pre-glittered!). I also used the Polka Dot Textured Impressions folder for the Big Shot again. This time I sent a piece of clear transparency through the big shot to add those polka dots.
I also used the new Beautiful Wings Embosslits Die to make all those butterflies… it not only cuts out the butterflies, but also emobsses them at the same time. Very cool! Lots of different sizes, too.
I'm off to get to work on my Leadership swaps… I'm amazed at how quickly this trip is sneaking up on me! Yikes!
Happy Wednesday!