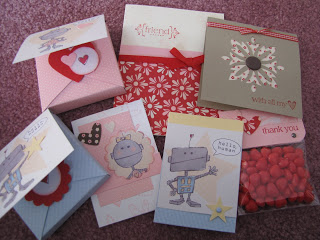 Yesterday I held a Mom & Me Valentine Class at the Chatham Community Center on Route 28.
These are the goodies the Mom's and kids made. The top two cards on the right are a Valentine Friend Card and another small card using the Pendant Notes that is suitable for a "significant other". The "Mom's" made those two cards and the smaller flat cards featuring the Robots.
The kids made the two robot treat boxes (boy and girl) and they also made the two smaller cards featuring the Love Bots Valentine kits from the
Occasions mini Catalog
.
The little bag in the lower right hand corner of the top photo was my thank you gift for all who came. It is a little cello bag filled with cinnamon hearts and closed with a bag topper.
These kits are a super value with 30 boxes per kit (they come packaged all boy or all girl) for only $9.95 (page 17 in the mini catalog)! I used some tips and tricks I learned at Leadership to alter the boxes to make regular flat cards as well.
Patty Bennett, a demonstrator from California, showcased the kits in the
Mini Occasions Catalog
(including the Love Bots) at the Leadership Conference in Phoenix last week. She showed us that its important sometimes to think outside of the box (ha! No pun intended). Here are some of the samples she made with the Love Bots kits: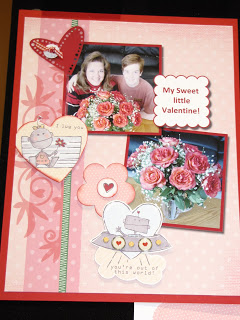 Cute, huh?
There are two other project kits in the new mini including the Recipes by Design box (page 8) and the Eggcellent Eggs Kit (Page 23) for decorating Easter Eggs. The catalog really doesn't do them justice as there are so many cute and clever ideas you can use them for!
Thanks for stopping by!