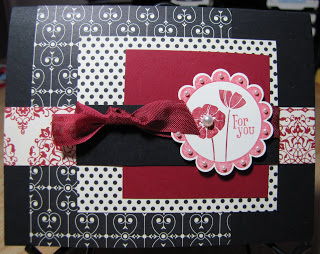 I used the "Love Letters" DSP on today's card (it was featured on yesterday's card, too!). This is another relatively simple card — it primarily consists of a lot of layering. In all honesty, this card came together by simply piling on a variety of scraps I had hanging around the table after putting yesterday's card together. That's often times my favorite way to create.
In fact, I have a bin on my paper rack behind my table where I put any small "card-sized" scraps and then when I have a minute to make a card, I simply pull a few scraps from the bin that speak to me and start playing.
One of the greatest things about Sale-A-Bration is that demonstrators earn free sets for every $50, too so when I placed a supply order of $300 I earned SIX free Sale-A-Bration sets. Cool, huh? Want to learn more about being a demonstrator during the best time of the year? Feel free to come to my group meeting on Sunday, Jan. 30 at 2 p.m. (just please let me know so I have enough supplies cut for the make and takes).
See you tomorrow….