One of my goals this year is to get more of my own scrapbooking done, but I've kind of been without inspiration lately. So for this layout I decided to give myself a "recipe" before I sat down to scrap. Here was the recipe:
Two colors of cardstock (I chose bravo burgandy and Pink Pirouette)
One neutral color cardstock (very vanilla)
One sheet of two-sided DSP (Parisian Summer)
A dash of ribbon
Baroque Motifs Stamp Set (I hadn't used it in a while)
A piece of Hodgepodge hardware
It took me a while to get into the groove — it's been quite a while since I scrapbooked just for fun! But here is the end result: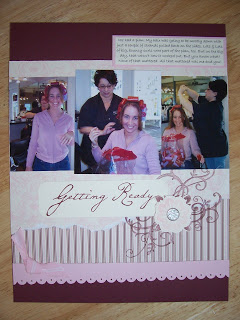 So next time you are stuck, try narrowing down your overwhelming supply of goodies to just a few BEFORE you start scrappin'. It might just work! I'd love to see what you come up with using this recipe! Feel free to post your version in the comments.