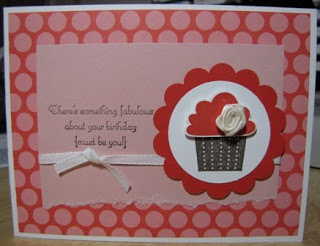 I was so excited that the weathermen were predicting upwards of 6o degree weather today as I knew I had the day off!
So, I was a little disappointed when I saw the fog and rainy weather today. But I always try to find a positive spin on everything lately so… I've been stamping all day! 🙂
I'm actually working (very last minute) on my Artisian Award entry and in between coming up with some projects for my Stamp Club this week.
I also got to have a 2 hour nap today, which I've said before, always feels rebellious to me on a weekday afternoon 🙂
Anyway, this card is using the Create a Cupcake stamp said and punch. I honestly can't remember if I cased this layout or not… I think I might have so if it looks familiar please let me know and I will absolutely include you as my inspiration! I'm usually really good about marking whether an idea was mine or "borrowed" from someone else — and this one… I just can't remember and I didn't write it down! I'm amazed at how old I'm feeling these days 🙁
I used this card at a workshop recently and everyone loved it. I really like that we have so many punches that coordinate with our stamp sets. Remember these two are only available until the end of April when the Mini Occasions catalog ends (but don't worry I have a fun new Summer Mini Catalog to show you!).
Hope you have a great day!