Happy Friday! I've been slowly working on a reorganization of my scrapbook room. My first step is to re-organize my photos. I haven't been very good at scrapbooking lately and I think part of it is because my photos are filed everywhere and anywhere.
I had started to reorganize my photos about a year or a year and a half ago after reading Photo Freedom by Stacy Julian. I had separated many of my photos into albums I could flip through when I wanted to scrapbook… I liked the idea of this rather than digging through a file, however, instead of just putting photos that actually "speak" to me in terms of scrapbooking into the albums — I put EVERYTHING in those albums so now I have 13 filled albums — some with photos I would probably never scrapbook.
So now, I'm sorting through ALL my photos again… first creating piles of photos of specific people (Matt, Me, Mom, my niece, newphew etc) and then other piles of events (Mother's Day 2009, Fouth of July 2009, Christmas 2008 etc).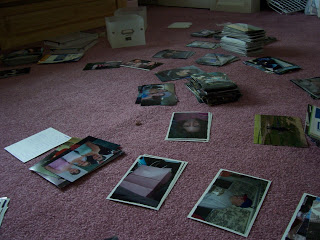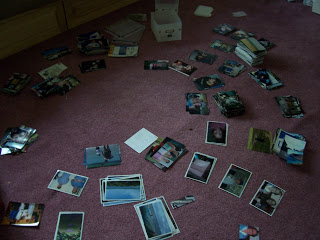 My plan is to then go through each pile and pull out the photos I think I will actually scrapbook and put the others in an album or throw them out. Then I can go through the "portable" (for crops) forget-me-not file boxes from Stampin' Up for various events or people I want to scrapbook and once I've scrapbooked the event (say, July 4) I can put the remaining photos I don't use either in a people file (under me or Matt, etc.) or in a photo album.
It's basically the same process as the Photo Freedom book, only I'm skipping the part where she holds her photos in albums to look through for scrapping.
I'll let you know how the process goes… right now I'm feeling a little overwhelmed… how does a woman with no animals and no kids end up with close to 15 full photo albums plus all the photos you see on the floor above???!!
Next up will be reorganizing my products and supplies and decorating the stamp room… wish me luck! Well, I guess I should get through the photos first!