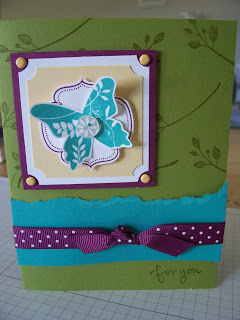 Happy Monday (if there is such a thing! lol)
I had a really busy, but fun weekend! Had a baby shower for a close friend (and stamping buddy), my 15 year high school reunion and a fun night out at Trader Ed's in Hyannis Sunday.
I think I need a weekend from my weekend! The good news is I think hubby and I are off to Las Vegas in a couple of weeks… so I'm excited about that!
Anyway, last night I had some time just to "play" with my stamps and I have loved the color combo on a card on page 6 of the new 2009-2010 Stampin' Up Idea Book and Catalog so I decided to play and make a card of my own with that color combo.
I used Old Olive, Bermuda Bay, Rich Razzleberry and Barely Banana. I was hoping for a more soft and summery look, but I'm still happy with how it came out. Perhaps I should have used Barely Banana as the base to get the more summery look…. I'll have to try later and see which one I like better!
I also used the Great Friend stamp set (page 107 of the new catalog), which I earned from my fabulous upline, Karen Landry. Very fun and versatile set.
Going back to "high school" this weekend was fun, but a bit uncomfortable for me… not feeling so great about how I'm lookin' 15 years later… but it was still fun to chat and catch up after, honestly, having not seen many of those people since the day we graduated!
That's me and my high school sidekick, Kim. We don't get to see each other as much as we used to, but still catch up every once in a while… We're going to try and get together more often now… we'll see!
Thanks for stopping by today… and don't forget there is still time to enter to win one of these two fabulous prizes… just sign up to be a follower of my blog by July 2o.
Also, check back later today when I will reveal Stampin' Up's Deal of the Week and give you the skinny on some new promotions coming up soon and hints about the new holiday mini catalog coming out September 1 … There's some really cool things happening, you don't want to miss out!