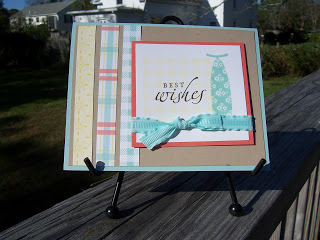 There's just five more days left of the 2011-2012 Idea Book and Catalog. If there is something you've had your eye on, please be sure to order before Friday!
This card was one of my swaps from Convention last year. I loved the Domestic Goddess Suite of products. Just so fun and retro!
This card used the Domestic Goddess Designer Series Paper, which is actually on sale for just $8.21 per pack. As I write, the Domestic Goddess DSP is still available, but don't delay!
The stamp set on this card is called House & Home and it is really cute. Go check out all the images here. I love the little chair… I'm not sure why!
As sad as I am to see some of these items going, I can't even begin to describe how beautiful the new catalog is. Would you like one? It is my free gift to you, I just ask that you pay the $5 for shipping. Send me an e-mail and I can send you a pay pal invoice for the $5.00 and have it on its way to you on Tuesday. Book a private class with me and the catalog is yours completely free — I'll pay shipping, too!
I'm off to do some more cleaning… I hope you are enjoying your Memorial Day weekend. Be sure to thank a service man or woman for their dedication to our country and freedom!