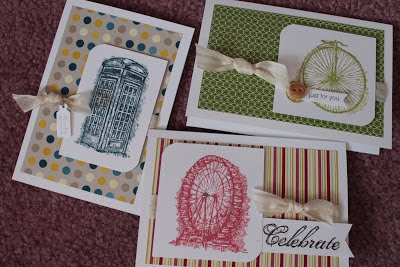 Today is one of the most long-awaited days of the year for Stampin' Up demonstrators and customers. It's the start of Sale-A-Bration!
For every $50 you spend (at one time) from now through March 22nd you'll be able to earn one of the fabulous Sale-A-Bration exclusive products for free!
These cards are made with the Feeling Sentimental Stamp set. It's personally one of my favorites for this year's Sale-A-Bration offerings. I used all four images from the set on these cards: The phone booth, the bike, the ferris wheel and the word "Celebrate." For the background paper I used the adorable 4.5 X 6.5 Print Poetry Designer Series paper stack (this would also be great for mounting photos in your scrapbooks!).
I started with the wonderful note-cards and envelopes and just started playing! I love how these came out and I want to share them with you! Place an order of $50 or more in my online store between now and tomorrow (January 23) at 7 p.m. and I will send you these three cards in the mail as an extra gift from me!
To help you out even a bit further — in case you need help getting to $50 (which I'm sure is not the case with our new Spring Catalog), here is a little kit I put together that will include most of the supplies I used on these cards so you could recreate them at home:
Notecards & Envelopes (item #107311) for $5.95
Print Poetry Designer Series Paper Stack (item #129312) for $6.95
Very Vanilla Seam Binding (item#120999) for $6.95
A little Greeting Stamp set (item #129111) for $7.95
Three ink pads of your choice of colors: $5.95 X 3 = $17.85
(I used Midnight Muse, #126860; Primrose Petal, #126858; and Lucky Limeade, #126984)
Dazzling Diamonds Glitter (item #102023) for $4.50
Two-Way Glue Pen (item #100425) for $3.50
That totals $53.65 so you could get the Feeling Sentimental Stamp Set for FREE! Go online now to order this package and earn these adorable cards for free! Or pick $50 of product of your choice and I'll still send you these cuties in the mail! Remember, your order needs to be placed by 7 p.m. (EST) tomorrow!
Happy Sale-A-Brating!