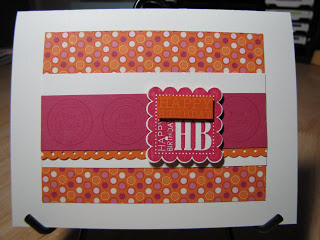 Welcome to Day 1 of
Sale-A-Bration
. I am super excited about this promotion this year… we have some great items up for grabs and plenty of new goodies in the
Occasions Mini catalog
that we qualify for a $50 order (you'll see more of those products coming up soon!).
Anyway, today's card is somewhat of a continuation of yesterday's blog post. I'm using the same basic supplies to create this card as I used to create yesterday's card. This one still features the Punch Bunch stamp set as well.
I like to make multiple cards using the same supplies because, well, it just makes sense! You have all the stuff out to make the card and you of course make a bunch of scraps when you are cutting into the paper to make the first card. So… I just pick up the pieces and create a new card!
Voila! This is another simple birthday card. It is always handy to have those on hand! See yesterday's post for ideas of what to purchase to make a similiar card to this and earn the Punch Bunch set for Free! (just scroll down and you can see yesterday's list.
Don't forget… I'll be featuring a new card using Punch Bunch all week this week (except Saturday and Sunday) and then come back next week as I'll be featuring the
Sale-A-Bration
set, "Bliss," which is one of my favorites!