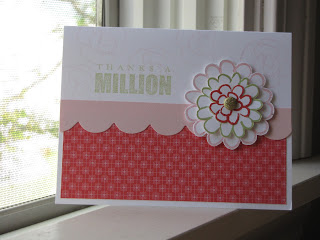 Boy am I glad it is Friday. This week was rough. I'm happy I'll be able to spend some time with my Mom tomorrow and hopefully get caught up on a bunch of things (mostly cleaning) that need to get done at the house, too.
I thought I'd share another card featuring a favorite retiring stamp set of mine. This one is called Flower Fest and I love how it looks like crayons when you stamp it. Click on the photo to see it up close – you'll see what I mean. Go ahead — I'll wait. 😉
This also features two retiring In Colors – Blushing Bride and Poppy Parade. I really like both of these colors. Oh, actually I just realized there is another retiring color mixed in there — Pear Pizzazz. That has been one of my absolute favorite greens lately. If you haven't stocked up, run to the online store (or rather click) ASAP as the In Color items tend to sell out quickly. Just two more weeks until we have the new Idea Book and Catalog to play with! I know you're going to love it! Want a copy? E-mail me and I'll set it up to be delivered directly to your door. I just ask that you pay for the $5.00 shipping.
If you're local consider attending my Last Chance/Sneak Peek Event on May 25 and you can pick up your copy for free! Please e-mail me and let me know you'd like to come so I can make sure I have enough catalogs on hand.
I hope you have a wonderful weekend!