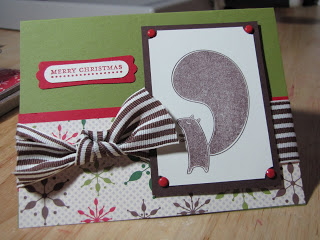 I know, I know, it's way too late to be showcasing Christmas cards! But I forgot to show you this fancy little number, which was made for my Mom this year.
Those of you who have been following the old blog for a while now, know that there is an ongoing story with the squirrel — particularly a blue squirrel from my childhood days — in my family. You can read all about the squirrel sagas here.
Now that you are caught up, to continue the tradition of a squirrel card for my Mom for every holiday, this was my card for Christmas 2009. Now you'll notice that the squirrel is not blue as most of the previous cards have been… you know, it's just too hard to make a Christmas card featuring a blue squirrel! Blue just does not "go" with red and green! LOL!
Anyway, that's all for today. Thanks for stopping by!