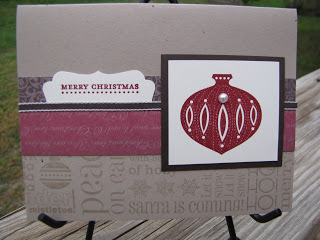 I cannot get the chill out of my body the last two days! It certainly feels like winter has arrived! What happened to fall??? I love the crisp, cool weather and this is not what I had in mind.
Oh well, I guess I don't really have much say in the matter.
Here's another card we did at my Holiday card class last week. It was actually adapted from a card I made for a workshop a few weeks ago. I love the new pearls we have in the 2010-2011 Idea Book and Catalog — they just add so much to a design… and they are very inexpensive. You get 150 pearls for just $4.95.
Today is going to be a quick post as I've got a ton of things to do on my day off. Lots of shopping errands. I've already been a good girl and cleaned my bathroom (which was way overdue) and finished the laundry.
I've also got some planning and creating to do later tonight, too. I do want to let you know, though, that Stampin' Up has added over 200 items in their
clearance rack
section of my demonstrator Web site. There are some fantastic deals on retired merchandise that you can get for up to 80 percent off! Check it out
here
. All orders must be placed online, though. So you can order right through my Web site. Let me know if you have any questions.
I'll "see" you tomorrow!