Well today is the big day when I have to narrow my $1,000 wish list down by oh, I don't know, $500-$800 dollars or so! Hee hee…. The new Stampin' Up Idea book and catalog goes "live" today at 2:00 p.m. And in honor of the big day, I'm giving away a FREE 2009 Spring/Summer Idea Book and Catalog to one of my lucky blog visitors…. along with a $25 gift certificate! All you have to do to be entered is post a comment on this post and at the end of the day I will draw a name out of all the entries and post the winner online.
I unfortunately, haven't had time to make a new card with any of the sneak peek stamp sets I bought because I've been busy with a couple of other projects. So I'm going to post a couple of cards from my uber-talented upline Karen Landry. She used the new honey bee set called "Just Buzzin' By", which is super cute.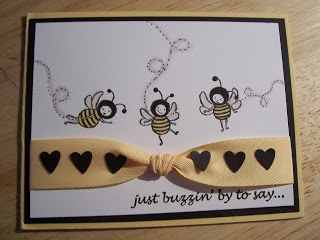 That's just a small little peek at what is inside the new catalog… just another hint all the hearts were made using a new punch that is in the Love You Much bundle.
I can't wait for you to get your hands on the new catalog… I think you are going to love it! You can also view it on my website after 2 p.m.