So last week I mentioned I was participating in the Last Scrapper Standing contest at the
Memorable Seasons blog
and thankfully I survived last week!
Today begins another round of voting through tomorrow at 3 p.m. (CST). Our challenge was to use three photos and mat them on black paper. Those were the only rules… this is what I came up with….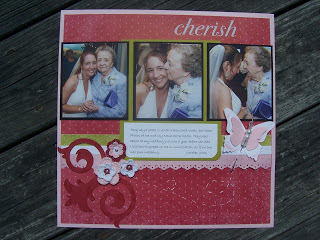 That's me and Nana at my wedding two years ago… I LOVE these photos… especially the one on the right… I love how we are so engaged in talking. It's like she was giving me some words of wisdom on marriage, which perhaps she was, but I, unfortunately, don't remember what we were talking about! Just another reason why I should start journaling every day… to remember these little tid-bits.
On this layout I actually used all Stampin' Up products… mainly the Sweet Nothings Simply Scrappin' kit and those fabulous crochet flowers — both of which I've been hoarding, but not using!!! (Why do we do that?)
Anyway, there are currently 12 participants left and they will eliminate two this week — bringing the total down to 10. If you would like to vote for me (which I would much appreciate) or want to check out some fabulous eye candy head over to the
Memorable Seasons Week 2 voting
now!