I am sooo going to miss the Stampin' Up In Colors this year! The new catalog comes out on July 1 and with each new July catalog, Stampin' Up introduces a brand new set of six In Colors based on the trendy colors in the industry.
This year I have absolutely loved Kiwi Kiss, Baja Breeze and Pink Pirouette! See when there are no more In Colors, I can't make this card: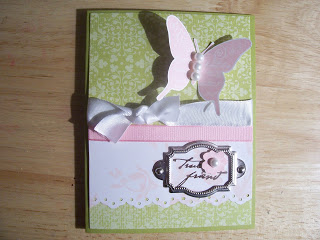 I love the Bella Rose DSP, too (which is used on the card)…. The good news is that I'll get my hands on the new catalog by mid-June, which is way earlier than usual…. I think it's going to be a great catalog and can't wait!