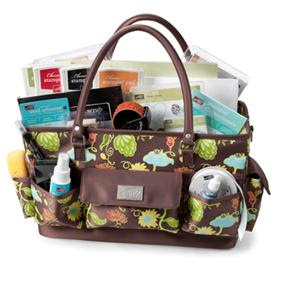 The first and last time I was in Disney World was 20 years ago. That seems so impossible, but, unfortunately, is true. I was a Freshman in High School and we drove down to Florida on two large Peter Pan buses so the band could perform at Sea World.
It was an experience I will remember for the rest of my life… and not just because I got stuck in the hamburgler statue (remember him?) at the McDonalds PlayPlace (what? I was dared!) or because I can still hear the loud chatter of 60 teenagers on a bus. For 24 hours straight. With no sleep. lol.
It truly is a magical place and turns everyone into a kid again…. no matter how old they are. That is why I was so excited to learn I could earn a trip to Disney… all expenses paid… for two…. and be pampered like I've never been pampered before just for doing something I love.
Those of you that know me or who have been following my blog for a while, know that I love Stampin' Up. I've worked with two other direct sales organizations (for very short periods of time) before I joined SU and I have to say the company is TRULY the best I've worked for. The company truly cares for its demonstrators and does everything it can to make us successful and reward us for our efforts. It's a fun company, too… check this out:
I know, a little silly — but that's how the company is … they like to have fun! And all their tunes for convention, leadership and their videos are always so catchy! 🙂
So all of this is why I really want to earn the incentive trip to Disney in 2012.
When you travel with Stampin' Up you have to know that it's an experience in and of itself. You come back to your room each night to a "pillow gift". You don't pay for a thing. They have special events for hubbies and of course some time for stamping and swapping.
For the 2012 trip, Stampin' Up has reserved Disney's BoardWalk resort hotel and planned a special event at Disney's Animal Kingdom Theme Park!
I am going to try as hard as I can to earn this trip and I'd love to have a few of my Cape Cod friends on hand to join me in the adventure!
Now is the perfect time to join Stampin' Up, too, as the holidays are just around the corner – my busiest time of year (and likely yours, too!). Plus if you join Stampin' Up right now, in addition to over $350 worth of product and supplies, you also receive an exclusive Stampin' Up carry tote (pictured above) for FREE! It features our Greenhouse Gala Designer Series Paper and can carry 12 X 12 paper, a paper cutter, seven Stampin Up ink pads and plenty of other tools and accessories. It's a phenomenal bag — one that I can't even order anymore — and retailed for $39.95.
Of course, I don't want anyone to jump into a new venture without fully understanding all that is involved so that is why I'm hosting an Opportunity Night for anybody interested in being a Stampin' Up demonstrator.
You'll learn a little bit more about the company, how you earn money, the many perks to being a demo and have the opportunity to ask questions.
So join me at my house on Thursday, Sept. 16 from 6:30 p.m. to 8 p.m. to learn more about how Stampin' Up can fit into your life. I'm positive you won't regret the decision. I know I joined almost five years ago and haven't looked back!
RSVP
before Sunday, Sept. 12 and receive a special gift when you arrive on the 16th.