So I've decided to put the "followers" gadget back up on my blog. I had taken it down because I felt sad that I didn't have any followers! lol! So to encourage some followers and clean out my stamp room at the same time….. I'm going to give away some blog candy!
Just for becoming a fan of my blog and becoming a follower, you could win one of the following two prizes:
Prize #1
Prize #2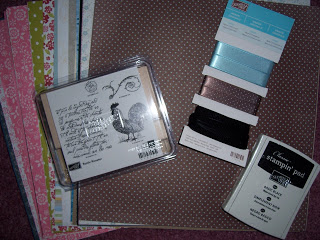 Each prize includes 30 sheets of 12 X 12 retired Stampin' Up cardstock (assorted varieties), and a basic black Classic Ink Stampin' pad. In addition, Prize #1 has the "A little bit of Happiness" Hostess stamp set from a couple of catalogs ago and a goody bag filled with die-cut shapes, ribbon, chipboard elements, and hodgepodge hardware.
For prize #2 there is also the retired "Rustic Rooster" stamp set from the spring/summer 2009 catalog (I really wish I had a chance to play with that one… I know it will make some cute, cute cards!) and the Valet Ribbon originals ribbon also from the most recently retired catalog.
All you have to do to be entered to win one of these packages is become a "follower" by clicking on the link to the right by the end of the day on Monday, July 20 and on Tuesday July 21 I will announce the two winners of the prizes. You'll have to follow "publicly" when asked… so that I will know you have entered. (Note: I'm sorry to any international followers, but I can only ship within the U.S.)
It's that easy! You'll get some goodies and I'll get rid of some stuff out of my overflowing stamp room… (Boy is it messy right now!!!)
Hope you have a fantastic Thursday!