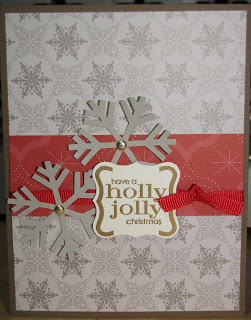 I hope you had a great Thanksgiving… I had every intention of popping on to say happy Turkey Day, but well, I got caught up spending time with the fam.
The past two days I've been buried in Designer Series Paper, cardstock, inks and stamps as I planned my second Holiday Stamp-A-Stack of the year for Wednesday, Dec. 2.
I still have a little bit of space if you are interested in coming… e-mail me ASAP and I'll add you to the list.
This card isn't actually one of the Stamp-A-Stack cards — actually it is a card I made from the scraps leftover on my desk… I really need to use up my scraps more often! This card came together probably in about 2 minutes and I think it's really cute… (It looks much better in person — taking photos at night in my stamping room isn't really ideal)
There is still time to order supplies for the holidays — need more cardstock? Would you like some pretty paper to play with? Or how about a new stamp set? Feel free to email me with any orders you'd like or you can go to my online store and order directly from the website. In fact, you may want to check out the clearance section – we've added some more items there at great prices.
Hope your week is off to a great start… thanks for stopping by.