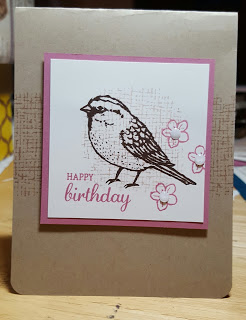 Hi There Stampers,
Happy Sunday! Hope you enjoyed a nice weekend. I had a very busy (and fun!) weekend. Saturday was my annual Catalog Launch & BOGO sale. Always a fun time… this card was one of the two free make and takes I offered for the catalog launch.
I used the "Best Birds" stamp set for this card. I'm actually going to predict that this will be a really popular set this catalog cycle… at least it will be for me. It was one of the first bundles to draw my attention (well, right after I got over screaming about the new "By the Shore" suite!).
This card is rather simple because I knew the ladies would be busy shopping yesterday so I wanted to provide some super simple make and takes.
This is a Crumb Cake base and I only used the Best Birds stamp set. So you can see it's got some great layering elements and beautiful greetings (and I love the font!). I used the fabulous new Sweet Sugar Plum as the color pop, as well as Early Espresso for the bird.
I'm trying to narrow down all my favorite stamp sets to four for a fun training event for my Shore Stampers team. We're doing an all day training on Saturday where we'll be making 20 different cards using four different stamp sets. Yup. Just four. Oy, this is going to be some hard decisions. I'm thinking that this bird stamp set may make the cut — especially since it has thinlits that match!
If you've ever considered being a Stampin' Up demonstrator, or if you just really, really love Stampin' Up products like I do, you may want to consider buying the starter kit. It's a fabulous deal and comes with a 20% discount – can't beat that, right? Well, actually I can! The starter kit is $99 and you get to select $125 worth of product of YOUR choice. Then, if you purchase the kit in June you also get to select TWO stamp sets of your choice of any value for free! Email me if you have questions or would like to take advantage of the starter kit special and I'll help you out!
Okay… I'm off to bed I think. It's a super busy week for me… I have my online catalog launch party on Tuesday night — you should join us! Click here to see what we're up to – then my Stamp of the Month class on Thursday and my big training on Saturday! So much stamping fun 🙂
Until next time… keep stampin'!