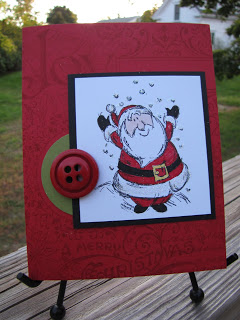 Are you on Santa's naughty or nice list this year? Me? I don't know… it might be too early to tell! lol.
This is another card that the crew at my Holiday Card Class earlier this week got to make. The Santa is from a tried and true favorite — Jolliest Time of Year.
I'm not sure but I may be getting sick of Christmas already! Too bad for me as I've still got a ways to go before I can pack up the holiday until next year.
It's funny because I always gripe when I go into a store and they have Halloween items out in late August, or Christmas in early October or Valentine's Day in December — but guess what? I do the same thing!
Well, in my defense… if folks want to hand-stamp a special holiday card they need to order supplies in advance — so therefore, I need to have samples done in advance! You see? Don't blame me… it's an occupational hazard I guess.
Hope you are having a great week. I had the best two days today and yesterday — First, I was off from work both days and I had a stamping event both nights! Doesn't get any better than waking up when I feel like it and stampin' the day away…
Til' tomorrow!