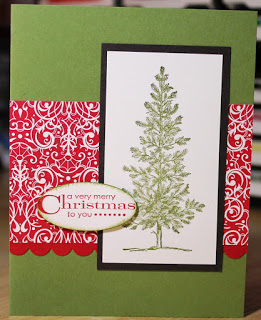 Hello. Happy Rainy Tuesday. I was fortunate that I didn't have to go to work today so it was a pajamas and crafting kind of day. : )
This card is actually another one from my card class last month. We make 10 cards (two each of five designs) for just $18 or free with a minimum order. Anyway, the September class was the second of our four class series. There's still time to join us this month if you'd like. Our next class is at the Chatham Community Center on Tuesday, October 30 at 6 p.m. E-mail me if you'd like to go.
Back to the card again — boy, I'm easily side tracked today, huh? It features the Lovely as a Tree stamp set. Do you know this is the best selling stamp set Stampin' Up has? It's also the longest running I believe. Honestly, it really is a beautiful set — it makes very pretty cards and not just for the holidays. I've used it to make masculine cards as well — which is always tricky for me, but not with this set. It's just an elegant stamp set that really lends itself well to all different styles of cards from bright and cheery to muted and elegant. Try it out!
Well, despite having the day off, I don't feel like I accomplished even half of what I wanted to today so I'm going to sign off now and get to work. I've got some great new offerings I'm working on — I just have to get them finalized so I can tell you all about them!
Have a great week…