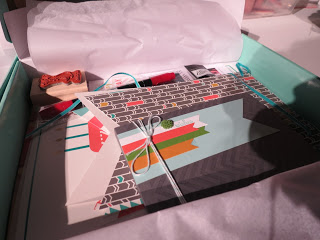 Hello there! I'm back again with some more stories from convention 2013. Our theme for this year was "Be the Difference." I really love that Stampin' Up has always been so committed to making a difference so this theme was really nice. Especially considering we were asked to take part and a really sweet community service project while we were in Utah. This is a picture of the inside of one of the 2,000 birthday kits we put together for the Primary Children's Hospital in Salt Lake City.
It's a super cute little kit designed to help the 10 or so patients each month that celebrate their birthday while in the hospital fighting for their life. They showed us a really sweet video with pictures of some of the kids and a video about the "Wishing Wall" Stampin' Up previously donated to the hospital. I don't think I got a picture of it, but it was a cute wall with two little kids (a boy and a girl) and a tree made up of all scallop circles. Each circle had a different wish written on it from either one of the children or their family members. It was sweet.
Anyway onto the project. Here is a picture of Anna and me as we were assembly our birthday banner…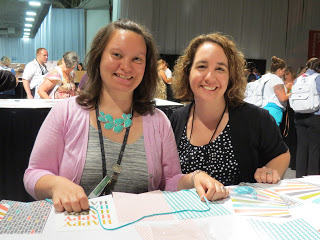 I discovered that I wasn't so good at talking and working… I had to keep taking my banner apart and rethreading it since I kept bringing the ribbon up from the bottom and then it wasn't so pretty… but eventually I got it finished: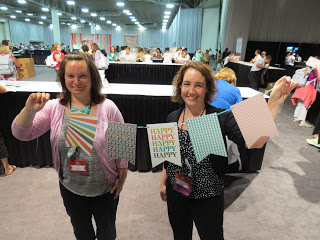 We packed up that banner, a cute little journal that Stampin' Up already had done, and a stamp, stampin' spots and a birthday cake poster and sealed them up with cute little stickers. Here is a picture of what was inside the kits that I took while we were waiting in line: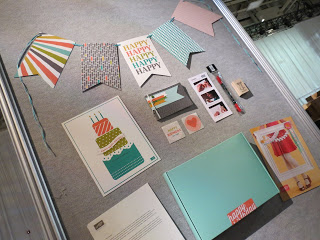 Super cute, right? Here is one last picture of me and Anna standing in front of the boxes and boxes of birthday kits all packaged up and ready for delivery…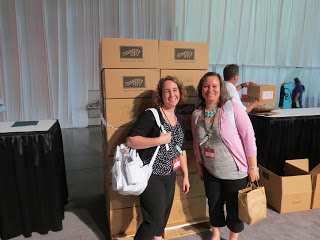 It felt good to help out. I hope the little kiddos enjoy their kits! 🙂
Now onto something else at the moment that is quite a bit more selfish, but oh so fun! So have you heard of
Stitch Fix
? It is the coolest new thing and I signed up for it yesterday and now I am giddy with excitement anticipating my first "fix." It's basically having your own personal shopper who ships adorably cute and stylish gear right to your door as often as you'd like! You pay $20 for each shipment, but if you end up keeping anything in you
Stitch Fix
box, that $20 goes towards what you purchase. They send you like five or six items that you get to try on in the comfort of your own home. Fun! I plan to share what they send to me — and maybe get some advice on what to keep. If it sounds fun feel free to use
this link
to register (it gives me a little referral credit), but even if you don't use that link you should go check it out… I was having dreams about my first box of goodies last night! Did I ever tell you that I first signed up as a Stampin' Up demo after I was dreaming about stamps and colors… I don't know, this sounds like a match to me! 🙂
I'll be back soon with details on my first box of goodies!!