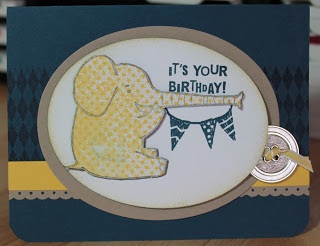 Hello there and happy Saturday! I had a productive day yesterday… I got my Stamp Club To Go projects all packed and ready to mail first thing this morning and planned another class using the Sent with Love bundle… but more on that another day.
This is one of the cards from Month 2 of Stamp Club To Go using the "Henry Says" stamp set from the spring catalog. I think this is my favorite project this month.
I have one more month of projects with this stamp set (for a total of 12 projects!) before I start another round of Stamp Club To Go — want in on the next round? E-mail me and I'll be sure to include you in the next announcement.
In the meantime, have you heard about Paper Pumpkin? It's a simple crafting project delivered to your door each month! All the supplies you need to make the surprise project are included in this kit (except adhesive)! All for just $19.95 (and that includes shipping!). Hurry to mypaperpumpkin.com to subscribe… be quick… if you sign up before March 10 your first kit will ship on March 15. It will be like a creative escape each month — 30 minutes of uninterrupted crafting time (well, I can't promise the uninterrupted part).
Have a great weekend…