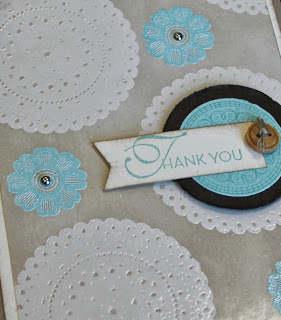 Hello, Hello! What a fabulous Saturday… the weather is gorgeous and I'm spending the weekend with some fabulous new peeps at the Scrap-A-Way Retreats weekend. Many of the girls stayed up late last night, so I thought I'd pop on the old blog and share with you a card a made for the Stampin' Up Artisan Award earlier this year.
This is a close up of the card. I used glossy cardstock and embossed the large white doily images using versamark and white embossing powder. Then I used Stampin' Up's colored embossing powder in Pool Party for the smaller flower image. After I heat embossed the random patterned images on the glossy cardstock, I took a sponge and sponged Crumb Cake ink over the entire front of the glossy cardstock. Then wipe off the excess ink using a paper towel (this will also take any of the ink off the embossed images, too).
Add a few layers of paper and some brads as accents and you have the finished card:
This emboss resist technique is one of my absolute favorites. While Stampin' Up doesn't carry the glossy cardstock anymore, it is still readily available in the crafting market… it's super fun and I hope you'll try it!
What is your favorite technique these days?