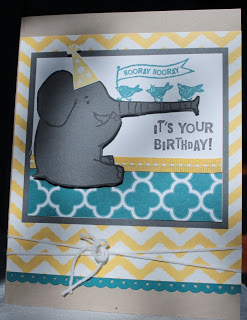 Hello! Happy Friday… where does the week go? I'm not sure, but I'm ready for the weekend!
Let me start by apologizing for this photo — it's way too windy for me to take pictures outside and my stamp room and desk are a complete disaaster so I had to take this downstairs in my kitchen and I caught a bit of shadows from the sun shining in the window. I'm not complaining though as the sun is a very welcome sight!
This card is one of the four projects going out in my Stamp Club To Go kits this month. The lucky ladies receiving this "happy mail" will get pre-cut supplies and product (including the adorable Henry Says stamp set) to make four projects using the adorable "Henry Says" stamp set. Next month, four more projects and $30 more dollars worth of product. Third month? Same thing! Such a fun way to paper craft — it's a no-brainer!
You know what else is a no-brainer… our new Paper Pumpkin program. It's a monthly kit subscription from Stampin' Up. It's designed to be a 30-40 minute crafting escape (hence the paper pumpkin — it's as if SU is your fairy godmother!). It comes in an adorable orange box that has all the supplies to make one quick & easy, adorable project each month. The best part — this program is only $19.95 and that includes shipping! The first kit ships in March… I signed up! Quick! Go to mypaperpumpkin.com and click "get it" to sign up, too. Don't forget to select me as your demonstrator so I can help you with any questions you may have about the program.
And if you are interested in my Stamp Club To Go kits you can e-mail me and I can still sneak you into this round of the STCTG. Otherwise, you can always join for my next session… I have a waiting list going for that one already!
I hope you enjoy the weekend!