Wait? What? I know. You want to know why I've skipped ahead to February already! Well, Stampin' Up just announced some new Valentine's Day products that are available for sale beginning today.
You can see in the picture above the adorable new Valentine kits for kids… little Monster girl and little Monster boy Valentines. So, so cute.
There are also two super cute Valentine's Day stamp sets available while supplies last or through January 27, 2014.
Here is the first set that is available. It is called "Love You More" and I've already ordered it! So fun: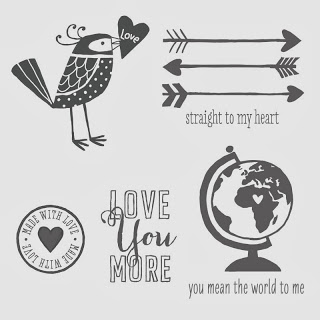 Next up is the "Follow Your Heart" stamp set, which is also adorable and may end up on a future order of mine (Have I ever told you that Valentine's Day has always been one of my favorite holidays — well except for a few years in college… but that's another story!):
In addition to the two new stamp sets and the adorable kid Valentine's Day kits. There are also two other package specials available beginning today.
Sweetheart Treat Bag – 12 printed bags (red with white hearts), 12 die-cut labels, 12 pre-cut pieces of Pool Party baker's twine.
Sweet Sayings Cards and Envelopes – 12 printed card bases, 12 envelopes (four Real Red, four Pool Party and four Crisp Cantalope).
Here is the PDF for these specials so you can print them out and see for yourself how much fun these new items are!
I hope you had a wonderful long holiday weekend and got to spend some quality time with family and friends!