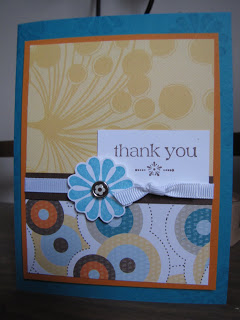 Welcome 2010! I hope you all had a wonderful celebration for the end of 2009. I have high hopes for 2010. I love the beginning of a new year. Fresh starts always inspire me and I have a lot of fresh starts for this year … I'll have more on that in a later post.
For now, I wanted to show you another sneak peek from the Occasions Mini Catalog that goes live on Jan. 5.
This card uses the "With all My Heart" stamp set again and the new Chocolate Chip epoxy brads.
New on this card, (by new, I mean that you haven't seen before — as I know all of the goodies on the card are essentially new!) Is new paper from the Sweet Pea Paper pack. It is absolutely adorable and probably one of my favorite new products! It is a 12 X 12 paper stack with a total of 48 sheets of paper (2 each of 24 double-sided designs). And you HAVE to have the matching Sweet Pea stitched felt (not shown here). Sooo cute!
Guess what? You can actually view the ENTIRE new mini Occasions catalog on my website. The mailing of the catalogs to those of you on my mailing list was a bit delayed. So Stampin' Up decided to post the catalog on our websites a little early to give you an opportunity to get a head start on your shopping! So hurry on over and make your wish list! Don't forget with every $50 you spend in January, February AND March you'll receive a Sale-A-Bration item for FREE. That catalog will be up on Jan. 5.
I'm am so excited about this catalog — and especially Leadership next week in Phoenix where I will learn all sorts of new tricks and tips for the new product! Stay tuned!