I say it every year…. I love a New Year. You can get rid of any negatives from the previous year, build on any successes and best of all wipe the slate clean if you choose to! Of course, you can do this at any time of year, but for some reason for me I always find the beginning of the year very inspiring.
I've been scouring all my favorite blogs this past week taking in others' resolutions, "One Word" picks, and plans for 2011. I have to be honest that I haven't really been able to pinpoint my thoughts on this year… so no real insightful thinking to share with you today… but perhaps in the not too distant future… 😉
I figured since I can't really collect all my goals, aspirations and desires for 2011 yet, I'd share my favorite projects from 2010. Have a look back…
January:
While I didn't actually create this layout in January… I made it to commemorate my first trip to Leadership, which was in Phoenix, Arizona last year. This was a big milestone for me for a couple of reasons — first it was my first flight alone ever! (Not necessarily something I want to do alone again… lol!). And it was my first trip to Leadership, which was amazing! I'm sad I won't be able to attend again this year. I am definitely aiming to attend convention though in July!
February:
March:
April:
May:
June:
July:
August:
September: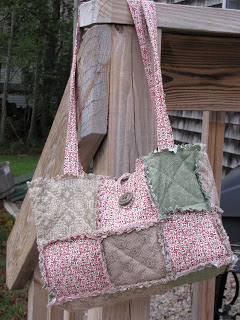 This may be my favorite project from 2010 — I think it's more symbollic than anything — as I tackled the sewing machine and won (with Mom's help of course!). You can read about it here. And guess what — I got a sewing machine for Christmas so you might just be seeing some more sewing in my future 😉
October:

I made this scrapbook page to sell and I realized as I was compiling this list — that I really didn't do too much scrapbooking in 2010, which is sad as it was the initial reason that I signed up as a demo… So that is definitely something I'm going to work on in 2011.
November: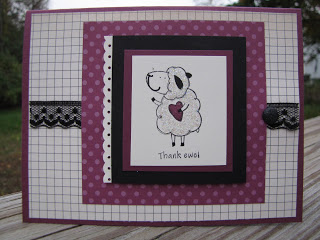 The colors of this card just make me happy … Rich Razzleberry, Basic Black and Very Vanilla — plus a little bling of course!
December: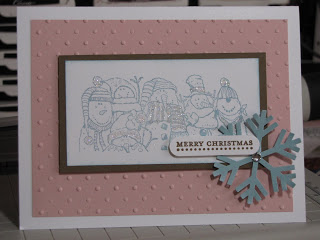 Last but not least — my favorite holiday card of the year — these adorable little snowmen. While it's not your typical Christmas card, I think it just makes a great contemporary design.
Well, that's a recap of 2010 through my creative projects… Do you have a favorite project from 2010? Feel free to share it with me (with a link!) in the comments!
Happy Crafting to you in 2011!