Welcome 2012. Glad to have you here! Hopefully, your a kind, healthy and happy year.
If you've been around my blog for any length of time you know that I love a New Year. It's fun to have a fresh start. Are you familiar with Ali Edwards "One Little Word" campaign each year? The gist of it is that she selects one word to focus on each year… it sort of become her mantra for the year and often plays out in ways she never imagined when she first selected the word.
While I've never really participated in "One Little Word," I have selected "realize" as my word this year… as in realizing my blessings, realizing the moment, realizing success. That's what I would like my 2012 to be. What's your word?
One thing I hope YOU realize is that the Stampin' Up Holiday Mini Catalog is ending as of the end of the day today! So if you really wanted the adorable Stocking punch and Stitched Stocking Stamp Set — get it now or it is gone forever (we've already been told the punch isn't carrying over to the next catalog… gasp!). Here is a really fun Christmas card I made with the stocking stamp set and punch: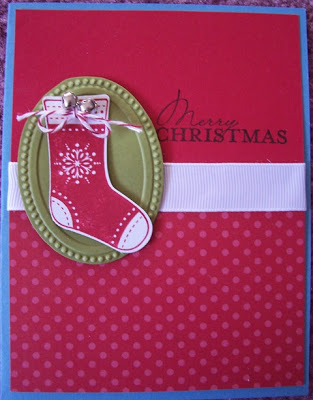 Fun, yes? I love the little jingle bells that are on this card, too. Those are in the holiday mini catalog, too so they will be gone as of tomorrow, too.
Don't be too sad, though, as when one catalog ends another begins! We start with the brand new 2012 Occasions Mini Catalog tomorrow. That has some gorgeous new products in it. Be sure to check out my website first thing tomorrow so you can see all the new goodies.
I had a sneak peek event last week for my customers where we played with some of the new products from the mini catalog. Would you like to see??
Below is a card featuring the new Twitterpated product Suite – one of my favorites (although it is hard to pick):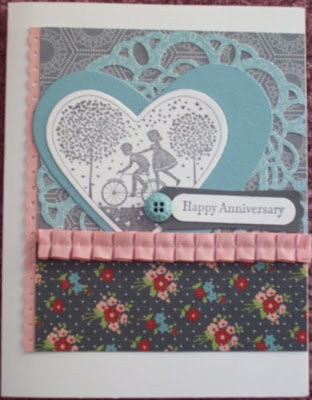 Sorry this picture is a little fuzzy. I still need to get a new camera…. 🙁
Anyway, this card features hearts made with our new framelits for the Big Shot — LOVE these! I think they are my favorite new product in the mini… although that is a tough call. I'll show you one more card that is actually part sneak peek and part last chance for the holiday mini:
This card features paper from the Christmas Lane Simply Scrappin' Kit in the Holiday Mini (so last chance to get that one) and it also features some other new framelits — the labels collection. Aren't they fun? Love, love them.
Also on this card is the Stamp Set called Apothecary Art. This one is a great scrapbooking stamp set and I can't wait to start creating some fun pages featuring this set.
Of course, before I start "playing" I needed to get to work on making thank you cards for all my wonderful holiday gifts so that is what this card was for. I've already made up several so that I can get them sent out ASAP.
I hope you had a wonderful holiday season and that you'll be back to visit me again real soon! Happy Tuesday!