Well hello there long lost blog world! I seemed to have missed the entire month of June. Hmph. How is it that I'm having such difficulty keeping up with the little old blog these days?
I do have grand plans to update (both literally – as in posting! – and physically – as in giving it a bit of a sprucing up) in the not too distant future. I'm a little bored with it so I'm thinking maybe if I make it a little prettier and maybe offer some things here … it might be more fun for me! Of course, words of encouragement from my friends in blog land are always fun — so feel free to comment away when you see something you like! 🙂
I'll keep you posted.
In the meantime, today is a big day! It is the official start to the new Stampin' year! That means a brand new Idea Book & Catalog, folks. Very exciting. I've actually already put in my first order of the year — and I must say I was very well behaved — only ordering supplies for upcoming classes. Click here to check it out for yourself. Here's a little sneak peek of the cover:
Beautiful, isn't it? I have to admit the samples in this catalog are truly some of the best ever. I cannot wait for convention in a few weeks as I'm sure I will truly fall in love with lots of other stuff, too 🙂
The great little bonus for me today was that I earned FIVE free stamp sets during Sale-A-Bration this year – so I got to place my order for those today, too – and they were all just the FUN stuff that I WANTED,not needed.
Would you like to be able to earn free shopping sprees while making money doing something you love? Well, now is the perfect time to join Stampin' Up as a demonstrator. Not only is it super exciting because of all the new product, but right now you can join for just $99!

Plus if you join between July 1 and July 31 you'll also receive an exclusive Creative Kit to make the adorable Christmas keepsake box below — it would be a great gift or just the perfect thing to keep your own mementos in: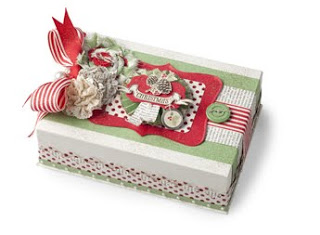 So if you are ready to jump on board and start making money now (doing something that is totally fun!) then visit my Web site and sign up any time — day or night. If you've got questions, or if you want a little guidance first, feel free to e-mail me and we can set up a time to sit down and chat — either in person or over the phone. I'd love to have you join my growing team!
With that, I'm off to celebrate the Fourth of July with friends and family… but plan to be back real soon with some eye candy.
I hope you have a wonderful holiday weekend!