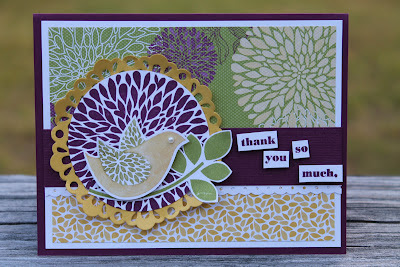 Hi there… I just wanted to pop in somewhat quickly today to wish you a happy Fourth of July.
I'm laying pretty low key today. (In fact, it's 4:15 p.m. and I still haven't showered!). I've been waffling back and forth between getting out and enjoying the day off and being really sad. It was one month ago today that I last saw my Mom alive. We were making plans to bring her home two days later (albeit in a hospital bed). Having been through this before with my Dad, I know that the first year is so, so difficult because everything is, "one year ago today…" or "this is the first xx holiday without…." I have gotten really good at pretending she is just at home… but then it will hit me hard that she's not there.
As I've said many times the last few weeks… every day is a new battle. Today's battle is a toss up.
One of the things that has helped me forget and even find a bit of joy has been crafting. I made this card a couple of weekends ago when I needed a distraction. I just started playing with some of my new toys and this card showed up! It features the Betsy's Blossoms Stamp set, Floral District Designer Series Paper and the new delicate doilies sizzlit. There are so many great new things in the 2012-2013 Idea Book and catalog… be sure to go check them out
here
. It's always smart to check out the
clearance rack
while you are there, too, as you never know when Stampin' Up might throw in some new goodies there!
I hope you are spending the hoiday surrounded by friends and family and celebrating this great country of ours. A special thank you to all of the service men and women who have fought so bravely so we can enjoy days like these.