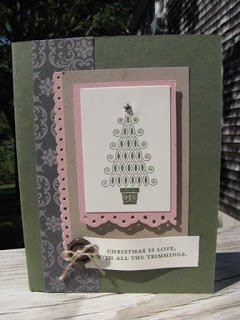 Well, it appears the summer disappeared with Hurricane Earl a couple of weeks ago, huh?
I actually don't mind the fall… except that I really don't look forward to the winter… at all! However, I do enjoy the cool, crisp sunny days of fall. Plus the colorful pumpkins, leaves and scarecrows of fall are beautiful color inspiration for crafters like me! lol…
Fall also means that it's time to start planning for the holidays… it's never to early to start, you know! This card here is a sample from one of my upcoming holiday card classes. The first one is on Wednesday, Sept. 29. There's still time to RSVP if you'd like to come … just e-mail me ASAP. It will be held at the Chatham Community Center from 6 to 9 p.m. Each guest makes 10 cards (2 each of 5 designs) for $18… and a head start on the holidays… priceless! 🙂
I'm really excited about this fall. The new
holiday mini catalog
is fabulous with lots of new product including fabric, which works great with our Big Shot die-cutting machine. Keep an eye on the old blog-o as I will be featuring a fabric project that I made (with the help of my Mom) recently — and yes, it involves sewing, gasp! I'm very proud of myself 😉
Well, I've got to get to work — lots of designing, cutting and prepping to do for upcoming classes, a crop, and some workshops.
Talk to you soon!