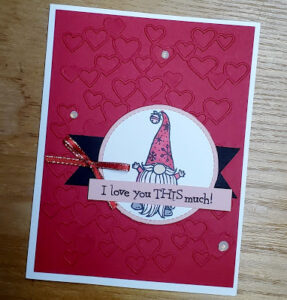 As soon as I saw these adorable little gnomes in the Stampin' Up August-December Mini Catalog, I knew I had to own them. And I've been playing with this set ever since, really.
In fact, I designed my October Stamp Club Class around it because I loved it so much. (Registration for that class is open for just one more day!).
But, it is so much more than Christmas… I paired it with a sentiment from the Dino Days stamp set, and we have a super fun and festive Valentine's Day card (I know, I know — I'm super early — but this is really the only time you can say that about me!).
But what I want you to pay close attention to on this card is actually the detailed heart dies that are in the background.
That die is amazing, and adds such pizzazz to a card, but if you've ever fussed with trying to glue a detailed die-cut down using liquid adhesive, you know that it can be a real challenge. Enter in the Stampin' Up Self-Adhesive sheets! I'm sharing a video on this below — but let me just tell you these little beauties are a GAME. CHANGER. for your detailed dies.
Essentially, you apply the sticker sheet to your cardstock before you run it through your die-cutting machine, and then when you're finished, the die-cut becomes a giant sticker where you can basically peel off the back and attach to your project.
Check out my video below, and let me know if you have any questions. I'm always happy to help you with your crafting endeavors.
S
o what do you think? Will these be a tool you'll be adding to your crafting basics? What die do you think will be a must-have for these self-adhesive sheets?
As always, thanks so much for hanging out with me. Until next time…