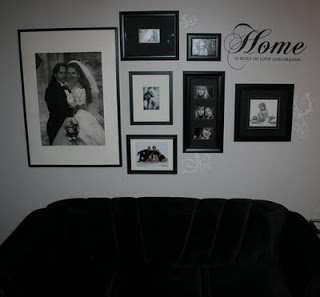 Well, I didn't get around to photographing any of my recent crafty adventures today, so I figured I would instead reward you, my fabulous blog readers, with a giveaway day.
I have this Decor Elements "Home" wall vinyl to give away… I earned it as part of my demonstrator perks and have yet to find a home (ha, no pun intended!) for it. Sooo, it will go to one of you.
It says, "Home is built of love and dreams" and looks fabulous in this picture, which was taken by a fellow demonstrator, Shawna Mackenzie. Doesn't it look great with that photo grouping?
She also used some of the "Flourishes" Decor Elements to accent a couple of the pictures. The "Home" decor element was a hostess gift and is no longer available for purchase so this is one of the few ways you can get your hands on it. (yipee!)
So in order to be included in my drawing, submit a comment on this post (or e-mail me with your response) and answer what kinds of classes you wish I offered (Stamp set of the month, Stamp-A-Stack, Scrapbooking etc.) by Friday, Oct. 30 and I will award someone with the "treat" on Halloween!
Thanks for stopping by today…