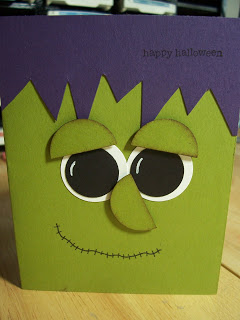 I first saw this card at convention last year when someone (sorry don't remember who it was) had this as a swap card. It's really been all over the internet for more than a year so it's not a new idea, but one that I just had to "borrow".
And I'm glad I did… it came out so cute and makes such an adorable Halloween card for a little kid! It's also super fast and easy… Bonus!
We made it at my Stamp Club last night and it was by far the favorite card and it was probably the easiest as well… I guess it just goes to show me that sometimes simple is enough!
I used the 1 inch puch for the black centers of Frankie's eyes and then a 1 1/4 puch for the rest of the circles. I inked the edges of the eyelids and nose in brown and lifted them with stampin' dimensionals so they would pop a bit. A hand drawn mouth and that's pretty much it!
I hope you have a fantastic weekend!