A couple of posts ago I gave you a sneak peek of a Stamp Club project that the girls in my two Stamp Clubs were going to make this week. Now that they've all completed the project and it won't ruin the surprise for anyone, I thought I would share the completed project.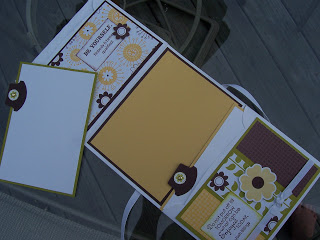 I was inspired to create this envelope scrapbook album by a similar project at my local scrapbook store (Colorful Creations). So I changed it up a bit (using all Stampin' Up! product, of course) and came up with this.
There's several great uses for this little baby — you could use it as a brag book for cute little children or grandchildren, mail it to a friend you haven't seen in a long time and include some photos of you and a handwritten note, or give it as a gift for someone else to enjoy.
The basics of the album are pretty simple. It is three envelopes linked together by the flaps (the top flap is torn off). Then you just stamp and embellish as desired.
I used the Stitched Exotics stamp set that is retiring as of June 30. Check here to see what is on the "Last Chance" list and click here to see the retiring accessories (some of which are up to 50 percent off!)
I think I have about an hour or so to play with my stamps, so hopefully I'll have a sneak peek of one of the make & take projects for my new 2009-2010 Stampin' Up catalog "Get the Scoop" event on Thursday. Check back soon!