First, let me start my Countdown post today with a great big thank you for all of your kind words yesterday. I really do appreciate it… and there are so many of you that struggle with the same issue. So I'm glad I shared. So often we feel isolated in our grief, and sharing, communicating and creating can be such a valuable tool in healing. If you have no idea what I'm talking about, you can read THIS post to get caught up.
If you're ready to see the next project in my Fall for Holiday countdown, well you're in the right place. I'm kind of excited about today's projects – yes, plural! You get a two for one today because I designed a fun, vintage-y card for you and then decided it needed a "companion." So I added a wine tag as well. I explain how the combo came about in my video today.
And if you're just joining me, be sure to jump back a few days here on the blog because I've been sharing a new project each day since September 1st (the launch of the new Holiday Catalog from Stampin' Up). We've covered fall, Halloween and now we're finally moving on to Christmas, seven days in!
Here is what I made for you today: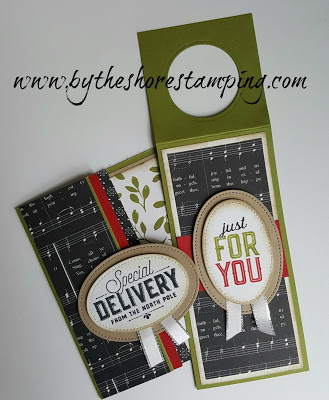 The card was based on a design I received as part of a swap earlier this year. It was originally created by Jamilla Ivits of Canada. We made the exact card she created in card class a couple of months ago and it was so popular that I wanted to create it again using our holiday products.
Here's how the card opens (and why it's a bit unusual):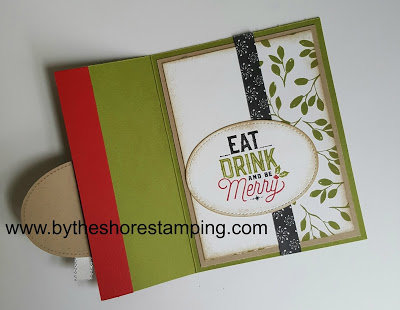 Really fun style, right? That's what I love about swapping (and one of the most fun parts of being a demonstrator — lots of opportunities to "swap" ideas with other crazy talented demonstrators!).
I give all of the measurements in today's video (and they are written right in the description of the video below if you click over to YouTube while watching). I also show you how I did the three different colors on my stamped image if you're not familiar with the marker to stamp technique.
So, I've got lots to show you! Let's get started (click on the image below to watch the video):
Well, I'm off so I can keep videoing, blogging and writing emails — got to get ahead in order to be focused on my first crop of the season this weekend. I'm heading to Fitchburg, MA for the Ready Set Crop Back to School event. Lots of prep still to do for that, too! Honestly, my to-do list is a bit daunting, but it's all fun work… except for maybe the loading of the car part. (ha ha)
So I'm off to it. Remember if you'd like to see the new holiday catalog in my online store, you can view it
HERE
. If you'd like to download a copy of it, you can do that
HERE
. And if you'd like a hard copy of the new catalog and you don't already have a demonstrator you work with, I'd be happy to send you one… just email me at jenpitta (at) comcast (dot) net and I'll drop one in the mail for you.
Also, if I've inspired you to
order any of the new goodies
(which I'd be oh so grateful!), please be sure to use the hostess code
WK7DFWJ7
at checkout. And don't forget, I have a fun online Facebook party scheduled to culminate these 12 days of creative inspiration… so be sure to
join us there
, too!
Until tomorrow… have a great day!
xoxo
Jen