It's day #11! Can you believe it? I'm a bit late again today, but we had a Creative Escape planning meeting tonight! Yay! And between writing press releases for the Symphony this morning and designing potential make and takes and pillow gifts for Creative Escape this afternoon, I just plain ran out of time to get this project finished and emailed out!
But here I am, for the 11th project featuring new product from the brand new Stampin' Up holiday catalog released on September 1. You can shop the new goodies in my online store
HERE
or view it in a PDF format
HERE
.
Okay, let's talk about today's project. It's actually a continuation of yesterday's project(s) in that it still uses primarily the same products from the "You Can Make It" box on page 4 of the Holiday catalog,
except
that I added the adorable little
pizza boxes
to the mix.
Here's a sneak peek of my project: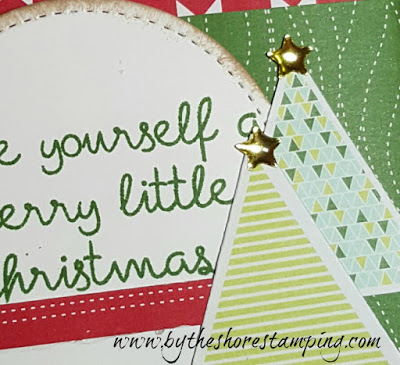 I envision this being the perfect little hostess gift — maybe for Thanksgiving as then they'd have the whole holiday season to use the Christmas themed cards? But you could easily change up the paper and theme so you could gift it for any holiday, maybe using winter themed products or even Valentine's Day!
Here's the little pizza box with the decorated cover:
And here it is open, with the cute little 3 x 3 cards inside. (Sorry for the horrible lighting in this picture… it's difficult to take nice photos at night!):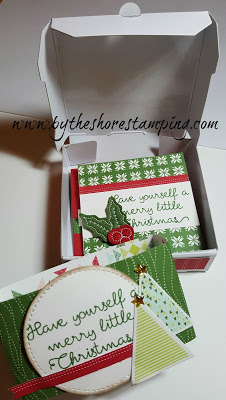 In today's video I show you how to make a removable belly band. You can use this technique for all sorts of boxes, and even packets of cards. Basically anything you want to hold together, but want to be able to pull them apart, too — without ruining your cute little decorative stamping.
Here's the video:
We have one more day in the Fall for Holiday Countdown. Can you believe it's almost been 12 days already? Time really does fly when you're having fun! Although I must admit, I'm going to be thankful for the break! 🙂
Don't forget to join us for the online
Facebook party
tomorrow night where I'll be sharing more info and giving away some prizes! Speaking of prizes, I'll be ordering those using the hostess dollars from any orders this month. So if I've inspired you to order with any of the new products, I'd love it if you used the hostess code
WK7DFWJ7
at checkout.
Thanks so much for following along on this crafty journey! "See" you tomorrow for one more day of fun!
xoxo
Jen