Hey there friends…
It's Sunday night and I am pooped! Had a fun weekend at the Ready Set Crop event. It was great to see so many of you in person again. I love the summer, but I certainly miss all my scrappers for those few months!
We're on day #10 of my Fall for Holiday Countdown where I'm counting down some fun, fall (and holiday) projects to celebrate the release of the new Stampin' Up Holiday Catalog on September 1st. You can shop the new catalog
HERE
and download a PDF copy of it
HERE
. Don't forget to
join me on Facebook
Tuesday night for an online party to celebrate the 12 days of creative inspiration!
For day #10 I have more of a tip for you rather than a technique or fancy project. But I do have several projects today — two of them are straight out of the holiday catalog (page 4) and two are super simple, which I promised you the other day. These would all be great cards to copy for "mass producing" if you have a lot of cards to make this year.
Here are three of the projects… some cute little 3×3 cards:
And here is the fourth (full-size) card: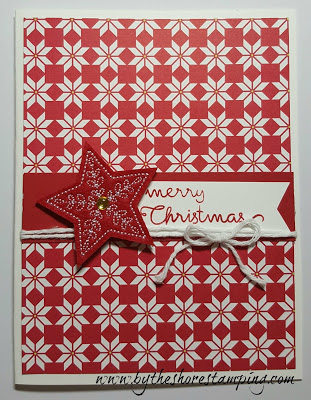 My goal today was to point out the "You Can Make It" boxes in both the holiday catalog and in the annual catalog. These little boxes of coordinating product are the perfect "starting point" for your projects and are generally enough supplies to make a multitude of projects for a reasonable price. So don't just skip over those pages! (The list of supplies for these "You Can Make It" projects are listed on page 4 of the Holiday catalog).
I explain all about this in today's quick video:
Okay, that is it for me. I am going to do some general housework stuff to get the house ready for the week, and then I'm off to read in bed. I love to spend a few minutes each night reading before turning out the light. Right now I'm re-reading the whole Harry Potter series and I can't believe how much of them I forgot already … and I'm only on book 2!
Anyway, thanks so much for stopping by, and if I've inspired you to order any goodies from the new holiday catalog, I'd love it if you used the hostess code
WK7DFWJ7
at checkout. That will allow me to award some of you with goodies at the Facebook party on Tuesday! I hope you'll join me!
Have a great night and I'll "see" you tomorrow!
xoxo
Jen