It's day three of my Stampin' Up Holiday Catalog countdown and today I have a fun little treat bag to share with you.
In my neck of the woods (Cape Cod, MA), it's the perfect crafting weather today… overcast, dreary and rainy. So I'll be hitting the craft table again later today to get ahead on a few Countdown posts for the week. I've got a lot of events coming up for the fall season so time to get to work!
But today, I'm focusing on the little "goblins" that may have in your life. They will love this little treat bag. Well, really, anyone with a sweet tooth (I'm raising my hand) will love this project.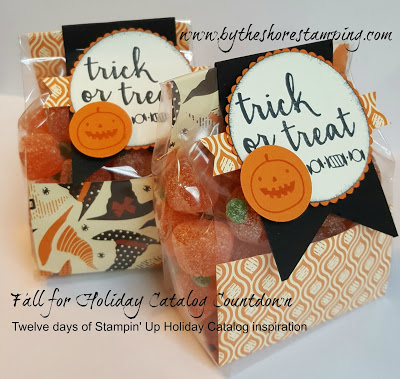 Of course all the pumpkin paraphernalia is alive in well in the stores already so I grabbed a bucket of pumpkin gum drops at the Christmas Tree Shop the other day. I thought they would look adorable in the Stampin' Up 3 x 6 gusseted bags… and they do, don't you think?
It was easier to showcase this one via video so you can see that below (and you seemed disappointed yesterday when I didn't have one! I do aim to please so I'll try to do videos for most of my projects this week… but I can't promise anything!).
So here ya go — a quick and easy project to make for all the candy fiends in your life!
Okay… that's it for today. I'm off to make some lunch and then back to the craft table for a bit!
Have you seen the holiday catalog yet? If you don't already have a demonstrator you work with, shoot me a quick
email
and I'm happy to send you one. Or you can shop online
HERE
. And don't forget to let me know if you want to join us for the online FB party at the end of our countdown. You can click "going" on the event page
HERE
.
"See" you tomorrow, friends!
xoxo,
Jen