As promised earlier today here is Deal of the Week #3: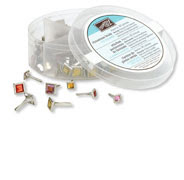 This week you can get the fantastic square rhinestone brads for just $6.99! They are generally $10.95… that's 30% off the regular retail price. As an added bonus, anyone who places an order online through my website between now and the end of July will receive an extra surprise bonus from me! Hint: There's nothing like a little hand-stamped goodness to brighten someone's day!
I also promised you I'd spill the beans a little bit. As a Stampin' Up demonstrator, I got a sneak peek at the new Holiday Mini Catalog coming out on Sept. 1 and boy are there some great new things in store for Stampin' Up customers!
Here's a little rundown of the products making their way into the new mini: Build a Bear Workshops (think Big Shot Dies AND stamps), glitter paint, glittered chipboard, flocked designer series paper and new DIGITAL scrapbooking software… Holy Cow… it is all amazing!
I usually try to limit myself for what I buy from the mini-catalog only because we are not guaranteed that it will make it to the next big catalog, but I may just have to buy it all this time around! Lol!
Keep an eye on your mailbox for your new Holiday mini-catalog to be delivered… It should arrive mid-to-late August. If you are not on my mailing list already, e-mail me with your snail mail address and I'll add you to my mailing list! Trust me, you do not want to miss this mini! :o)