So I would love to show you some fabulous pictures of our Fourth of July celebration on Saturday, but I was taking photos with my sister's camera and well…. she is not known for uploading her photos in a timely basis. So you can look for those photos… let's say in September! lol!
However, I do have a new deal of the week for you today. You can get this beauty: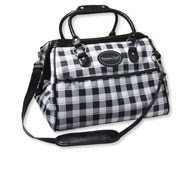 for just $49.99! It's the Stampin' Up exclusive Big Shot Doctor's Bag, which is usually $69.99 but is now on sale until Monday, July 13. While it is great to carry the Big Shot die-cutting machine in this bag — you could use it for any number of things, from traveling to your next crop or using it as a carry on bag the next time you travel! Remember, you can
shop online
anytime or feel free to
e-mail
me with your order and I would be happy to process it for you.
Hope you had a fantastic Fourth of July!