Well I hope to get a ton done today… I have the day off now as I finished up a few things I had to do for the newspaper and I've reached my 40 hours for the week already. That means I have the rest of the day to get some major work done for some upcoming stamp clubs (two next week), some upcoming workshops (two the following week) and the big Crop on the Cape event from March 25 – 28th. Boy it's going to be a busy few weeks!!! I'm excited though!
I love getting out and meeting new people and teaching new projects. I think the people are what make this job the absolute best! I've truly made some incredible friends in the four years I've been a Stampin' Up demonstrator and I am so grateful. Thank you all for your friendship and support!
Anyway, I was going to show you my new 'do, but between bed-head and no make-up it's just not going to happen right now! I thought it would be better to take the picture now before I showered as it's still in fairly good condition after sleeping on it last night and you know how your hair ALWAYS looks better when the hairdresser does it. Well, it was a little too wild right now and I really need some help with the aging face here this morning.
Actually part of the problem is that I went for a walk with my Mom Wednesday and we walked down to the boatyard where my brother works. He had Sam (my favorite little puppy) and just as I bent over to say hello to him, he jumped up to say hi and got me right in the nose! So now I have a little scratch right between my eyes where his tooth got me. Attractive, right?
So when I get a little make-up on to cover that, I'll post a picture of my new hair 'do. I'm really excited about the color… I went a little crazy and did a really intense red highlight. Pretty cool if I do say so myself! Thanks to Becca at Essential Beauty in the Hyannis Resort and Conference Center!
So how about some crafty news? As I said I've been super busy preparing for some upcoming events and I'm sort of excited that it's supposed to be a bit rainy this weekend. I know, I know… don't shoot me, it's just that, that way I won't feel guilty when I'm trapped inside every day!
Here is a card that I'm featuring at the Crop on the Cape event: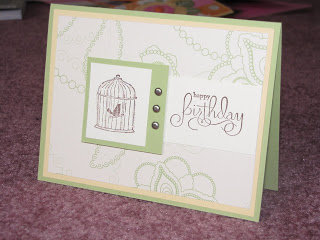 It's a pretty simple card and it actually looks better in person. There's a bit of bling on the bird cage.
I used the Shades of Spring Designer Series Paper from the Occasions Mini and the new Sale-A-Bration stamp set called Happy Moments.
If you aren't already signed up for the Crop on the Cape be sure to stop by and see what it is all about on Saturday, March 27 from 9 a.m to 9 p.m. Unfortunately, I don't think there are any more spots to actually participate in the crop, but you can come and check out the vendors (that's me!). I'll have some specials, pre-made kits and retired stamps for you to peruse plus I'd love to see your happy face! :o)
Well, I really need to get back to work (as if stamping is really work! Ha!). Be sure to check back soon as I will post a picture of the new 'do as soon as I can get a decent one! (Ok so that might be a while… ! hee hee…)
Have a great weekend!