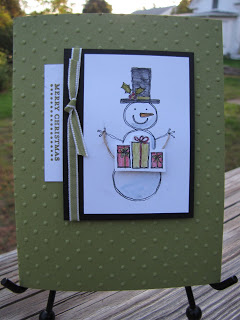 I had planned on showing you some of the other pre-made scrapbook pages I made for a customer, but alas technology is against me.
For whatever reason, the three other pages I took pictures of are fine on my computer, but when I load into blogger they turn sideways — it's driving me nuts! So sadly, I don't think I'll be able to show them to you (I only have the one picture and I've already given the pages to their new owner).
So, instead today I am sharing a full sneak peek of a card from next week's holiday card class. I showed a glimpse of it the other day, but this is the full card. Isn't it cute? This is an old stamp set called "Punch Pals" — I thought I'd pull out an oldie, but goodie. There are still a couple of spots left for next week if you are interested… we're getting together at 6 p.m. at the Chatham Community Center and will make 10 cards (2 each of 5 designs) for $18.
Supplies for this card are simple: Old Olive Cardstock, Basic Black Cardstock, Whisper White Cardstock; Punch Pals Stamp Set and Teeny Tiny Wishes; Old Olive 1/8th inch Tafetta ribbon and a little bit of linen thread and the big shot to do that fabulous polka dot embossing folder.
Thanks so much for stopping by today — I actually thing I'm going to go back to sleep for awhile (it's 7:20 on a Sunday and I've been up since 5:30 — waaaayy to early for me 🙂
Have a great day!