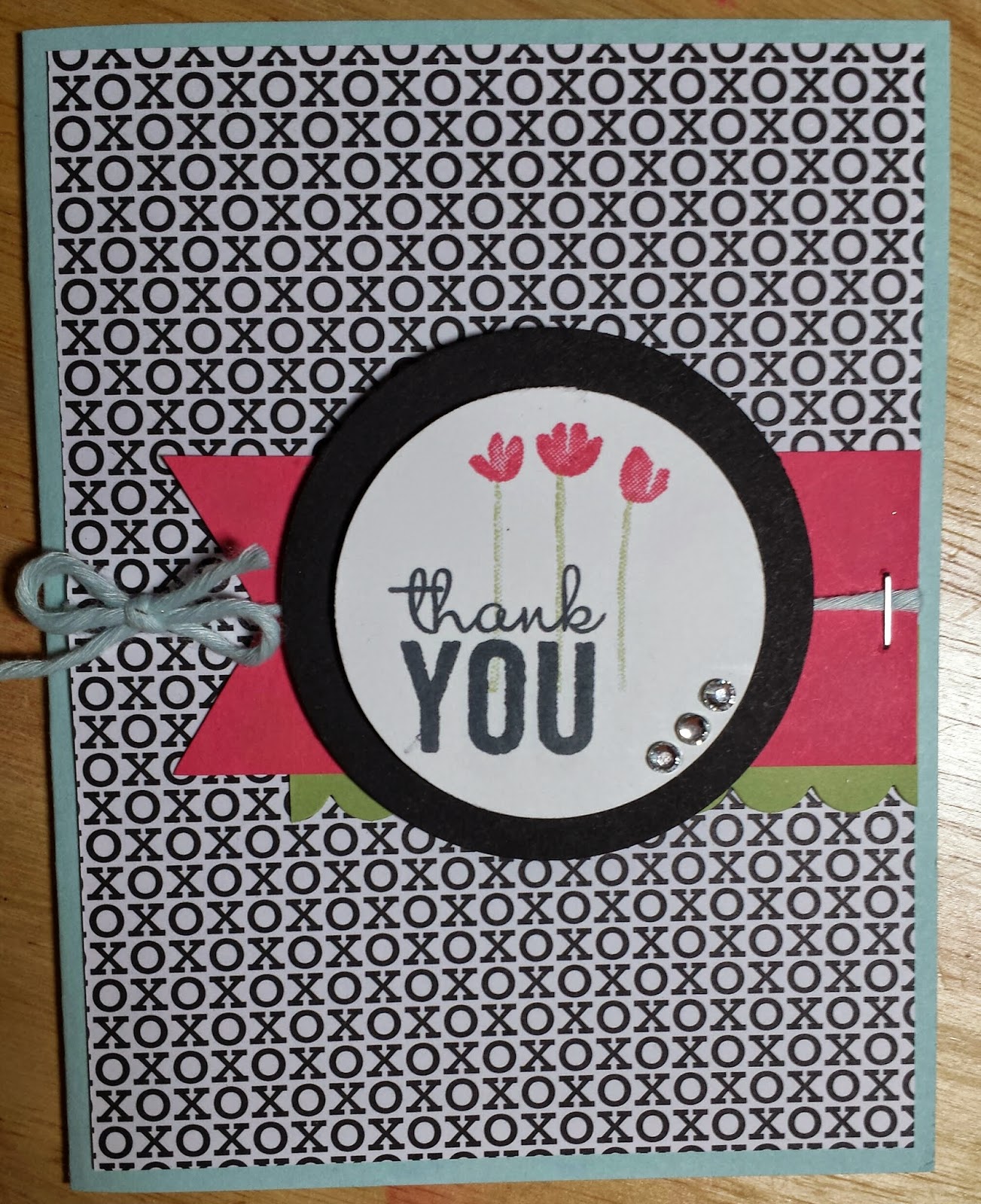 So there's nothing like a little sunshine to make you feel like you can conquer the world again — or at least post to your blog! 😉 Amazingly the temperatures got up to almost 50 degrees today. I can actually see grass in the backyard (just one small spot that is in the center of all the drifts but I'll take it!).
Anyway, I thought I'd pop on here and say, "Hi." After all, I do write here, occasionally.
I also thought I'd pop in with some gratitude for the beautiful weather provided today. That's why you're looking at a Thank You card today.
This one was actually from my Stamp Club To Go program. Each month I provide a list of products we use to complete four "stepped-up" cards. Stamp Club members place their orders online and then I send them all of the pre-cut supplies and instruction sheets to create the four projects at home. This winter the "to go" problem has been popular — not much else to do when you're buried in five feet snow banks than to stamp, right?
This card was from last month's kit. We used the Painted Petals stamp set from the Occasions catalog. I'll tell you, that stamp set doesn't look like much in the catalog, but it is really very versatile. For this card I also used the Stacked with Love Designer Series paper stack, which is another very versatile product — one side of the papers are all hearts, hugs, kisses and pink and white and then the back side is all blacks and white — making it perfect for all types of crafting projects.
I feel like I've lost my blog "mojo" over the past year or so — so feel free to comment below and tell me what your favorite posts have been — maybe it will get me back in my groove. Or perhaps the sunshine will help with that… another 40 degree day on tap for tomorrow. It's rather silly that I find 40 degrees exciting, but I do!
I was saying at work today that I'd really like to move somewhere where I don't ever need to wear a jacket outside. But, my co-workers oh so smartly advised me that the spring wouldn't be quite so sweet if we didn't have to experience the cold — and forty feet of snow first. 🙂
I hope your week is off to a great (warm!) start!