You know it has been a while since you last scrapbooked when it takes you 3 DAYS to finish one layout. Now mind you, most of these elements were in place from day 1, but I just wasn't ready to commit.
I've always had a problem with this in regards to my scrapbooking. I arrange everything on a page, let it sit on my scrapbook table and keep "sneaking up" on it every once in a while to see if anything catches my eye as out of place or just not working.
Well, this morning (in the wee hours of the morning, mind you) I just said enough is enough… you are finishing this layout today or else! So here it is: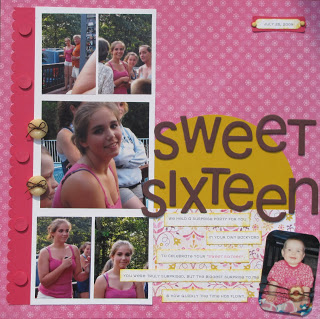 Journaling: We held a surprise party for you in your own backyard to celebrate your "sweet sixteen". You were truly surprised, but the biggest surprise to me is how quickly the time has flown.

Supplies: (All Stampin' Up!) Paper: Razzleberry Lemonade DSP, Melon Mambo cardstock, crushed curry cardstock, whisper white cardstock; Embellishments: Button Latte, Linen thread, On Board Loads of Letters, stampin' dimensionals, Chocolate Chip Craft Ink (dyed the chipboard and the linen thread); punches: Modern label, word window
Overall, I think I'm happy with it… I don't know… I'll have to let you know tomorrow after I "sneak up" on it a few more times, lol!
Thanks for stopping by…